Can you use French doors as a front door?
Yes, you absolutely can! Obviously you'll need a wide enough space to accommodate more than just a single door (anything over about 1500mm in width is probably your starting point) but French doors as entrance doors can be a real feature, as well as being quite practical in some circumstances.
Both our Solidor composite doors and English door company doors can be designed as French doors for use as entrances. This can be a desirable alternative to a single central door with sidelights, or a door with a single sidelight. Your design choices will be limited by the size you have to work with, but it would be very unusual that we couldn't come up with an attractive design to suit your tastes.
With a French door setup you would have to choose your primary or lead door, but could open up both doors if desired to create a larger opening to make getting things in and out easier.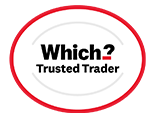 Endorsed by Which? Trusted Traders
Barnet Window Company Limited