"The New Windows Have Done Everything That I've Expected And I'm Very Pleased With The Outcome"
---
Pat lives with her husband in a chalet style house in Potters Bar. The house was built in the 1930's and is part of the Royds Conservation Area and has an Article 4 direction.
This means that any windows or doors that can be seen from the road require planning permission to replace, so for Pat having new windows installed was not such an easy procedure.
Pat explained that to update the look and feel of her house with new windows, she had to apply for planning permission which was quite a nuisance. Pat told us "I think it took about 2 months and I had to complete this myself."
Pat mentioned that having to apply for planning permission, meant she needed lots of advice and direction from us regarding the design.
Tommy then took the step of reassuring Pat that we would manage this and advise on the type of window and doors that would be best suited to her needs as well as what would lead to a successful planning permission.
A white woodgrain finish Flush casement window product with traditional layout was recommended and quoted for.
"Tommy was very clear when it came to explaining things and kept excellent contact with me either via the telephone or email. He wasn't pushy but was very good at reminding me of what needed to be done next"
Pat also liked the idea of us having a showroom where she could have a look at some of our products.
When it came to planning permission, Pat told us that she had sent photographs of the individual windows and the house in context to the other houses, but that wasn't enough, they wanted drawings by an Architect.
Fortunately for Pat, John Rose the Managing Director of Barnet Window Company was able to help with this by advising who could draw up these plans.
Along with the Architect drawings and proposal for the new windows and doors, the application was accepted.
When Pat was asked as to why she chose Barnet Window Company above the other companies, she said,
"There were quite a few reasons why. Your price was in the middle of the three, but I just had more confidence with what you were proposing than I did with the others.

I liked the accessibility of people with you, not having to do everything by telephone and feeling assured that if there were any problems then someone would be present to deal with these face-to-face. I also like the idea of a family business."
Pat was impressed with our installations team and found them both professional and courteous in her home.
Understanding the needs of the customer throughout the entire process is vital in gaining their trust so that they will return to us in the future.
Pat feels that throughout a difficult process, she was advised, supported and cared for throughout.
"The new windows have done everything that I've expected and I'm very pleased with the outcome. We have received lots of compliments from both neighbours and passers-by."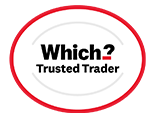 Endorsed by Which? Trusted Traders
Barnet Window Company Limited