A particularly charming UPVC double glazed Gothic arched bedroom window was completed in London. Finished in gloss white and with toughened glass this delightful window highlights how every installation is unique to each and every customer.
Ready to find out more?
If your home could benefit from new, energy efficient windows and doors, or even something a little different, Barnet Window Company is here to help. As mentioned why not request a copy of our General Window Guide to assist you on your home improvement journey. Or you could start with a simple telephone call or, if you're ready, why not book a sales visit with either Paul or Tommy, our expert window and door advisors?
Whatever you decide, you can be assured of a first-class service, without any stress or hassle, from the minute you get in touch, right up to final sign-off of your project.
If you'd like to chat to us, simply call our friendly team on 020 8449 4747 and we'll be happy to help.
Alternatively, send us an email and we'll get back to you.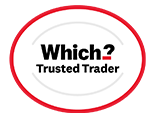 Endorsed by Which? Trusted Traders
Barnet Window Company Limited