Does your front door lock provide adequate security?
Security is usually one of the most important considerations for people looking to purchase a new front door for their home. But with lots of different standards, accreditations, and terminology to understand, this can be daunting.
The term that very often comes to mind when thinking about door locks is '5 lever mortice'. Mortice locks are commonly used on wooden doors. The 5 refers to the number of levers which are engaged when the key is turned in the lock. Having 5 levers is preferable to 3 as the more levers used the more difficult it should be to pick or drill the lock. Insurance requirements will typically request this level of security. Mortice locks will typically be coupled with an additional deadbolt lock (commonly referred to as a Chubb lock) for added security at night time or when you're not at home.
However, most modern entrance doors, whether UPVC, composite, or aluminium reply on a different approach to locking – the multipoint lock. These are normally a series of locks located along the opening side of the door. The locking points can consist of hooks, deadbolts, shootbolts (typically at the top and bottom of the door) and compression cams. How many locking points will depend on the type of door used. UPVC doors, which may have less strength in the door itself, may rely on more locking points (sometimes as many as 14) compared to composite or aluminium doors, which are inherently stronger.
These locking points can be engaged in different ways, but normally by lifting the handle. Some locking systems will be designed to automatically engage as soon as the door is closed.
Then there's the locking barrel to consider. Modern standards rate the security of barrels based on the level of testing they have been through. The highest rating will be 3 stars, which typically will have been shown to be anti-drill, anti-pick, anti-snap and anti-bump. Once these standards have been met you may find door products that achieve certain overall standards, such as PAS 24 and Secured By Design, which means the doors meet a police recommended specification.
Are you interested in finding out more?
Our experienced team are here to guide you through the entire process of your home improvement. Please get in touch if you are thinking of replacing your front door and would like more information on adequate security.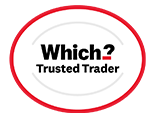 Endorsed by Which? Trusted Traders
Barnet Window Company Limited