As you can appreciate, this would depend on the number, size, and complexity of your window and door project and also the number of installers carrying out the work.
A typical window installation team will consist of two people, and you could expect them to complete the install of anywhere from 2 to 6 windows a day depending on the factors mentioned above.
Larger windows and doorsets or bay windows can be more complex and take more time. A good installation company should be able to accurately predict the length of an installation once they taken a look at your home.
As I'm sure you can appreciate, there's no secret to a successful and high quality window installation, it's about giving skilled professional installers the right amount of time, the appropriate tools, and the best quality materials.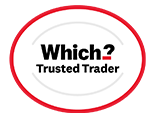 Endorsed by Which? Trusted Traders
Barnet Window Company Limited