Secondary glazing and double glazing are two different types of window insulation methods, and both have their own advantages and disadvantages.
Double glazing involves the installation of windows with two panes of glass with a gap between them, which provides better insulation than single glazing. The gap between the two panes acts as an insulating barrier, reducing heat transfer and noise transmission.
Secondary glazing, on the other hand, involves the installation of an additional pane of glass on the interior of an existing window. This creates a second layer of insulation that helps to reduce heat loss and noise transmission.
In terms of thermal insulation, recent tests show that very comparable overall levels of thermal efficiency can be achieved using both approaches. Using the WER (Window Energy Ratings) scale, both high quality secondary glazing and replacement double glazed windows can achieve 'A' Energy Rating standards.
When it comes to noise reduction, both double glazing and secondary glazing can be effective at reducing outside noise. However, secondary glazing may be more effective at reducing noise transmission at certain frequencies. Both approaches can accommodate acoustic laminated glass to improve performance.
In summary, while double glazing can often be the most practical solution, secondary glazing can still be a viable option for those on a budget or for those who are unable to install double glazing for various reasons, such as historical preservation restrictions. Secondary glazing can be let down by its impracticability, but also can be designed to suit almost any type of primary glazing.
Find out more about secondary glazing by visiting Granada our secondary glazing partner or if you would like to have a chat with one of our consultants please contact us on 020 8449 4747. Alternatively, please send us an email and we will get back to you. We would be delighted to talk through your requirements.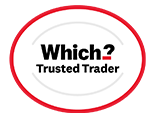 Endorsed by Which? Trusted Traders
Barnet Window Company Limited