Refreshing Front Door Installation
A refreshing installation of a Solidor Flint Beeston design front entrance door in a bright and vibrant tangerine inside and out was completed in London. Finished with white frames, laminated Satin glass to the door and Satin float glass above the door, brushed Aluminium finish finger pulls and Architecture letterplate AV2 locking system. This is our second installation of such a beautiful colour and it really does make you smile.
The front entrance door to a property is its biggest aesthetic feature; a real focal point that can make a visual impression. We offer a wide range of entrance doors so that you can be sure to find the right look to suite your tastes, the character of your home, and at the right price to suit your budget.
Want to find out more about Front Doors?
Why not take a look at our Front Door Guide and then visit our Design Your Door page to try using the Solidor Door Designer so that you can experiment with various designs and colours. Further information can also be found on our door brochures page or the Solidor website.
Want to find out more about Barnet Window Company?
If you would like to have a chat with one of our consultants please contact us on 020 8449 4747. Alternatively, please send us an email and we will get back to you. We would be delighted to talk through your requirements.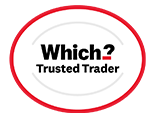 Endorsed by Which? Trusted Traders
Barnet Window Company Limited