Thinking of replacing your front door – question one – do you really need to do it?
First of all, why are you thinking of replacing your front door? Looks? Security? Insulation? All three?
Most modern entrance doors will provide you with a high level of security and thermal efficiency, but what about if you're loathe to replace a beautiful original character door that may have been in your home for over 100 years? Sometimes replacement isn't the best solution – some TLC, and adding some insulation and draught-proofing in the right areas can give your door a reprieve – and save you a lot of money.
How much would a new front door cost?
But if you do decide the time has come for a new front door, how much will it cost? Well that will depend on numerous factors, like the type and material of door as well as your choice of design and accessories.
Probably the most popular doors used nowadays are composite doors. They will typically start at around £2k, but can cost up to around £2,750 for some designs.
Bespoke 'timber alternative' doors like our English Door Company range are more of a premium product, a typical cost would likely be around the £2,750-£3,750 mark (inc VAT).
The next option would be timber. But bear in mind a good quality door made from durable and sustainable timber could set you back at least £4k.
Want to find out more about Front Doors?
Why not take a look at our Front Door Guide and then visit our Design Your Door page. Feel free to use our FREE online design software to play around with designs and get an idea of the cost of your new dream door. Further information can also be found on our door brochures page or the Solidor website.
Want to find out more about Barnet Window Company?
If you would like to have a chat with one of our consultants please contact us on 020 8449 4747. Alternatively, please send us an email and we will get back to you. We would be delighted to talk through your requirements.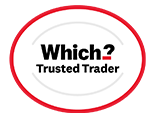 Endorsed by Which? Trusted Traders
Barnet Window Company Limited