Secondary glazing has been around since the 60s, and to some extent not a huge amount has changed since then, besides the great increase in design options, styles, and that the modern version looks far sleeker, and smarter.
The concept is simple – improve the thermal efficiency and/or the sound insulation of a window or door, without replacing the existing 'primary' window. Secondary glazing is often used in places where replacing the primary windows isn't an option due to Conservation Area or Listed Building status, or if you need to preserve untouched the original look of period glazing.
Secondary glazing is typically unobtrusive and can be specified in any colour so that the finished installation can blend in neatly with the surroundings, whilst still give you a marked improvement in insulation. There are a wide range of styles to choose from, so that you can design your secondary glazing to give you easy and practical access to the main windows for cleaning and ventilation.
You can also specify the correct glass solution to give you the best possible performance to suit your requirements.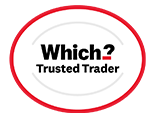 Endorsed by Which? Trusted Traders
Barnet Window Company Limited