Will Replacing Windows Save on Energy Costs?
The short answer to this question is almost certainly, YES. Building regulation thermal efficiency standards have been getting steadily higher since 2002, and will continue to do so as we move towards our goal of making homes greener by using less energy to heat them.
But how much you might save on your heating costs will depend on the type of windows you currently have, and the efficiency of the replacements.
The GGF (Glass and Glazing Federation) have produced a useful Energy Savings Calculator to help give you an idea of the potential savings to be had by replacing your windows. A quick check today shows a saving of almost £500 per year, if you currently have single glazed steel windows, and replace them with top spec modern A++ rated modern glazing.
Certainly gives you something to think about, especially when you factor in the added bonuses of top spec security and low maintenance of your new windows.
Want to find out more about Barnet Window Company and how we can help you with your home improvements?
If you would like to have a chat with one of our consultants please contact us on 020 8449 4747. Alternatively, please send us an email and we will get back to you. We would be delighted to talk through your requirements.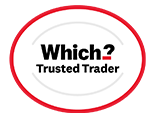 Endorsed by Which? Trusted Traders
Barnet Window Company Limited