How much do Sliding Patio Doors cost?
Maybe you're thinking about replacing some existing doors in your home and want to work out what the best solution is for you and your budget. Or perhaps you're planning a renovation or extension that require new doors. But how much might these new doors costs?
The installation of new sliding patio doors can vary in cost very significantly based on the following factors:-
Material – UPVC and aluminium are the most popular materials used for new sliding patio doors. UPVC will often be significantly cheaper, but aluminium can be used in a wider range of situations. Speak with a qualified consultant to work our the most suitable material for your project.
Size – Obviously the larger the doors the higher the cost. For smaller doors, UPVC might be considered more suitable, and a useful way to help keep costs down, but for much larger doors, over 2200mm in height, or 3-4m plus in width, you might want to consider aluminium, for its increased strength and durability.
Colour – white will be a stock colour for most UPVC and aluminium door systems. And most suppliers will also include dark grey and black in that standard offering. However, if you're looking to use a specific colour that isn't considered standard, you will likely be attracting a cost premium to do so.
Glass type – all doors obviously must achieve building regulation standards in terms of thermal efficiency and safety. But you might want to consider upgrades to the glass for various reasons, including increased security (laminated glass) or performance (solar reflective glass). Any glass upgrades of this kind will add to the cost of the doors.
All the above factors will contribute to the overall cost of the supply and installation of your doors. So far, we've not mentioned any figures, and typically we're always reluctant to provide rough cost ideas without taking a close look at the specification of doors and the requirements of the project.
However, typical UPVC sliding patio doors costs will start at around £2-2.5k inc VAT for smaller doors and might rise to around the £4-5k inc VAT mark for much larger spaces. For aluminium you're likely looking at a starting point of around £3.5-4k inc VAT for smaller doors, with prices possibly rising to well over £10k inc VAT for much larger door projects.
Please get in touch if you'd like to discuss an upcoming door project or for more information about our UPVC and aluminium sliding patio door range.
Want to find out more about sliding doors?
Take a look at our Ultimate Range Panorama Lift and Slide Doors Brochure that you will find on our brochures page for further information. You may even find it useful to check out our wonderful suppliers John Fredericks.
Want to find out more about Barnet Window Company?
If you would like to have a chat with one of our consultants please contact us on 020 8449 4747. Alternatively, please send us an email and we will get back to you. We would be delighted to talk through your requirements.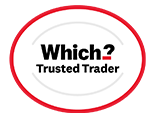 Endorsed by Which? Trusted Traders
Barnet Window Company Limited