Here at the Barnet Window Company we're passionate about our sustainability and Energy Saving.
We're committed to doing our bit to contribute to the ongoing fight against climate change by improving the thermal efficiency of new and existing homes in our local area.
But that's just one part of our green approach. Here's a selection of positive steps we're taking to ensure we're doing our bit:-
MORE EFFICIENT PRODUCTS
We work with our suppliers who are embracing innovative technology to ensure the thermal performance of our windows and doors continues to improve. This way we can lead the way in helping to achieve the zero carbon target for new homes that is being set by the government's Future Homes Standard.
RESPONSIBLE SOURCING
We are constantly evaluating our supply chain and prioritizing working with suppliers who focus on sustainable practices. This includes responsible sourcing of materials as well as considering the lifecycle of products.
PROCESSES & PRACTICES
We carried out a sustainability audit of our entire business. This allowed us to assess all our operations, processes, and supply chains to identify areas for environmental improvements. This included evaluating energy consumption, waste generation and carbon emissions.
CONTINUOUS IMPROVEMENT
We're committed to embracing a culture of continuous improvement by seeking innovative ways to further reduce our environmental impact. By staying informed about emerging technologies and industry trends we hope to constantly improve our sustainability efforts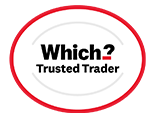 Endorsed by Which? Trusted Traders
Barnet Window Company Limited