With the current Economic climate weighing heavily on our minds, having Energy Efficient windows and doors and understanding Energy Ratings is a top priority.
Energy Efficient Windows and Doors
As building regulation standards steadily rise and the consumer demand for more efficient homes rises with it, windows and doors are playing a more and more important role.
By combining highly insulating sealed glass units with solid and secure locking systems and hinges, we're able to offer extremely high performing windows and doors to help play their part in a warm and cosy home – to help your family be comfortable and to save money on your heating bills.
But it's important to bear in mind that the best insulating windows and doors are only as good as the quality of installation. It's vital that your windows and doors are measured accurately and fitted to the highest standard for them to perform to their highest ability. That's why all of our installers are experienced employees (no contractors) and all qualified to at least NVQ Level 2.
Please get in touch if you'd like to consider improving the efficiency of your home by replacing your windows and doors. One of our expert advisors will be happy to help.
Will Replacing Windows Save on Energy Costs?
The short answer to this question is almost certainly, YES. Building regulation thermal efficiency standards have been getting steadily higher since 2002, and will continue to do so as we move towards our goal of making homes greener by using less energy to heat them.
But how much you might save on your heating costs will depend on the type of windows you currently have, and the efficiency of the replacements.
The GGF (Glass and Glazing Federation) have produced a useful Energy Savings Calculator to help give you an idea of the potential savings to be had by replacing your windows. A quick check today shows a saving of almost £500 per year, if you currently have single glazed steel windows, and replace them with top spec modern A++ rated modern glazing.
Certainly gives you something to think about, especially when you factor in the added bonuses of top spec security and low maintenance of your new windows.
What are Energy ratings and what do they mean?
Window Energy Ratings are like the rainbow sticker ratings shown on new white goods and things like lightbulbs.
They are an independently verified ratings system to show how thermally efficient a window is. They allow the consumer to make informed decisions on the best solution for their needs by allowing easy comparisons between products.
The ratings are based on a number of different factors like solar heat gain, air leakage and thermal transmittance. The WER scale ranges from E to A++, and it's important to know that current building regulations demand at least a 'B' Energy Rating for compliance.
Rest assured that any competent window installation company will be able to advise you on the rating of their products and ensure that your new window installation complies with regulations and is certified accordingly.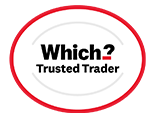 Endorsed by Which? Trusted Traders
Barnet Window Company Limited