Window Energy Ratings are like the rainbow sticker ratings shown on new white goods and things like lightbulbs.
They are an independently verified ratings system to show how thermally efficient a window is. They allow the consumer to make informed decisions on the best solution for their needs by allowing easy comparisons between products.
The ratings are based on a number of different factors like solar heat gain, air leakage and thermal transmittance. The WER scale ranges from E to A++, and it's important to know that current building regulations demand at least a 'B' Energy Rating for compliance.
Rest assured that any competent window installation company will be able to advise you on the rating of their products and ensure that your new window installation complies with regulations and is certified accordingly.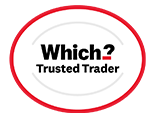 Endorsed by Which? Trusted Traders
Barnet Window Company Limited