The New Year has arrived and goals and aspirations are high. This may be the year to start thinking about changes that will improve your property's energy efficiency and make you smile every time you open a window or walk through your front door.
Helping you to make that change.
If you're considering investing in new Windows or a Front Door for your home, you're likely to have a long list of things to consider, questions to ask and concerns to be addressed.
That's why we've created FREE buyers guides for General and Sash Windows and Front Doors. Feel free to grab a cuppa and read through our guides to help you make a well informed decision.
Reassurance for your installation.
Rest assured that our installation teams are trained to work with each of our customers individually to make sure that the process of installation is as smooth as possible, even during bad weather, and to keep all disruption down to an absolute minimum. We can tailor the installation order and timings to suit you.
As a small, family-run business, we pride ourselves on that personal approach. We're flexible to your needs and will do whatever we can to suit your requirements.
Ready to find out more?
If your home could benefit from new, energy efficient windows and doors, Barnet Window Company is here to help. As mentioned why not request a copy of our General Window and Front Door Guides to assist you on your home improvement journey. Or you could start with a simple telephone call or, if you're ready, why not book a sales visit with either Paul or Tommy, our expert window and door advisors?
Whatever you decide, you can be assured of a first-class service, without any stress or hassle, from the minute you get in touch, right up to final sign-off of your project.
If you'd like to chat to us, simply call our friendly team on 020 8449 4747 and we'll be happy to help.
Alternatively, send us an email and we'll get back to you.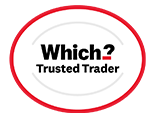 Endorsed by Which? Trusted Traders
Barnet Window Company Limited