Patio Doors Replacement & Installation
If you're thinking of replacing some existing patio doors in your home you might want to learn more about the options available to you. You might want to also think about the best material to use to suit your needs (UPVC? Aluminium?), and learn about the actual installation process itself.
The phrase 'patio doors' can cover any number of styles at varying sizes, but typically refers to either sliding doors or opening French doors. The approach that's most suitable will depend on various factors including the size of the opening, and how you intend to use the space inside the room and outside on the patio.
For narrower sizes, typically up to around 2 metres wide, the favoured option will often be French doors. These are a solution that allow you to open out almost the entire space which can be very desirable. Anything wider than that will require the addition of one or more sidelights. These can be useful to incorporate opening windows for added ventilation, but can also start to create a more busy design, with overall glass area reduced.
For sizes over 2 metres sliding patio doors can be more desirable. This approach can maximise the overall glass area, encouraging more light into the room, and with a nicer aspect looking onto the garden. A potential disadvantage would be that the overall maximum opening is likely smaller than an equivalent design with French doors.
The question of material can also come into play. Whether UPVC or Aluminium is most suitable for you can be determined by size (Aluminium is typically used for doors on the larger size sue to its increased strength and durability), appearance (UPVC is chunkier, and can be more limited in terms of colour options) and budget (UPVC will be a far more cost-friendly solution).
From a practical point of view, there should be no difference in installation approach or time for either option, all making good inside and outside will be taken care of by your installation team, and the old frames and glass will be removed and disposed of following our environmental policy. We'll tidy and clean up and leave you to enjoy your new doors!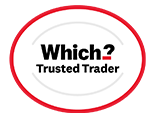 Endorsed by Which? Trusted Traders
Barnet Window Company Limited