Sliding Patio doors – what are my options?
If you're considering installing new sliding patio doors in your home your main decision will be material – UPVC or Aluminium?
Some projects may very heavily lead you to the latter, mainly if the size of your doors is large (probably over 3-4 metres or more) or if you have a requirement for multiple sliding sections (3-track doors for example).
But for more typical sizes and configurations you will have to weigh up various factors. The most glaring one is price, you should expect to pay a significant amount more for aluminium than UPVC, but what are you getting for that extra money?
Sightlines – as aluminium is a much stronger material we can manufacture them with much slimmer frames than UPVC, this can be an important factor if you're looking to maximise the glass area and maintain an unrestricted view of your outside space.
Durability – aluminium is widely considered a more hard-wearing material than UPVC, it will likely stay looking fresher and newer for longer.
Thermal efficiency – this is an area where UPVC has the upper hand. Because of the respective natural qualities of the materials, UPVC doors will typically give you a slightly better overall u-value (thermal efficiency rating). Don't think about this too much on larger doors though, as the efficiency of the glass will likely be the same for both materials.
Want to find out more about Sliding Doors?
Why not take a look at our Sliding Doors page or if you would like to have a chat with one of our consultants please contact us on 020 8449 4747. Alternatively, please send us an email and we will get back to you. We would be delighted to talk through your requirements.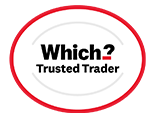 Endorsed by Which? Trusted Traders
Barnet Window Company Limited