Sash Windows Information
Many of you with period properties will love the wooden sash windows. But modern living can expose some problems with original timber sashes. We can help you find a solution that solves these issues, yet doesn't compromise the authentic look of a traditional box sash. Let's take a detailed look at sash windows to help you make an informed choice…
Sash windows – types, costs, pros and cons
If you're considering installing new sash windows in your home you might be a bit bewildered by the huge range of products available. The last 20 years has seen huge development in this area, with many products to choose from with a huge variation in looks and also cost.
Firstly, the main choice here is material. Timber or UPVC (often now called 'timber alternative' for the most traditional looking products). Naturally, timber requires ongoing maintenance, whereas UPVC is relatively easy to maintain, with simple cleaning. But timber can be a preferable choice if your home is in a certain type of conservation area, where local authority permissions may be required to replace your windows.
We specialise in traditional timber alternative sash windows, with a wide range of products that vary in how closely they replicate the look and feel of your original sash windows, and in how much they cost.
As you can imagine, the more closely the windows are designed and engineered to look like timber, the more you are likely going to need to spend. But it's important to remember that even at the more cost friendly end of our sash window range, you're not compromising on performance – all of our sash windows come with a 12 year guarantee and are 'A' Energy Rated as standard.
A Guide to Sash Windows V Casement Windows
This is only likely to be a question you're posing if you're living in a period property. It's pretty unlikely that sash windows will be a viable option if not, due to practical and aesthetic considerations.
However, if you are living in a character period home, you may well be weighing up the pros and cons of either approach for your new windows. Let me run through some of the things to consider…
Firstly – casement windows, (Note:- a casement window is basically a hinged window, typically consisting of windows that open by being pushed out from the bottom (top-hung) or from the side (side-hung)) these can be considered as an alternative to original or new sash windows. Casement windows can be designed in many ways and can incorporate any number of opening layouts and styles. From a more contemporary feel using white or coloured frames (maybe aluminium?) to a more traditional approach using timber alternative products like our Evolution Flush casements.
Casement windows in place of original sashes are likely to increase the thickness of the frames, but may be a strong consideration if you're trying to control the cost of your window project as much as possible, whilst not compromising at all on the security, durability and thermal performance of your new windows.
Sash windows would in most circumstances be the ideal solution. By replicating the original period windows as closely as possible, both in terms of looks as well as practicality, you're getting the best of both worlds – a traditional aesthetic coupled with the ease of use and top thermal performance of modern technology and materials.
We offer a range of traditional sash windows, so that you can be sure that we can find a solution that will meet your requirements, while keeping within your budget. And if sash windows aren't the solution for you and your home, there's always our extensive casement window range to consider.
Find out more
For more information on our sash range, or to talk to one of our specialist advisors, please get in touch. A showroom visit can also be really useful, we have three sash windows to view, and can explain the differences in the ranges in detail – please get in touch if you'd like to arrange a visit.
Then there's also our Sash Window Buyers Guide, where we go into a LOT more detail on all aspects of a replacement sash window project. You may also wish to take a look at the Masterframe website for further info on the sash window products available.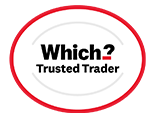 Endorsed by Which? Trusted Traders
Barnet Window Company Limited