Steel Windows Vs Aluminium Windows
One of the most popular window and door styles of the last 5 years is the industrial look of steel. This classic, very thin framed approach, typically in black, has increased in popularity and is now a very desirable look, particularly for extension glazing.
But this look can be achieved using two different frame materials – steel, and aluminium (often just called steel-look).
But what are the differences between these materials, and what would be best for your project?
The overall look achieved is very similar, but as steel is ultimately a much stronger material you can achieve the thinnest frames possible using this approach. A potential downside of steel's strength, however, is that it is very heavy.
Steel can be powder-coated to create an extremely durable low-maintenance finish, the same as aluminium. But a painted steel surface will require maintaining into the future, and this is not required for aluminium.
Both materials will struggle to achieve the top thermal efficiency standards that can be achieved in the industry with UPVC, but both will still be compliant with current building regulations, achieving a minimum of a B Energy Rating.
Cost will no doubt come into it, and this is where Aluminium will have the advantage. Raw material costs mean that steel typically attracts a significant premium compared to Aluminium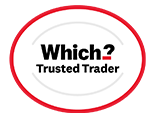 Endorsed by Which? Trusted Traders
Barnet Window Company Limited