Pros and Cons of Bi-Folding Doors
Bi-folding doors are now a firmly established favourite. A great solution for larger areas of glazing that allow you open up a space in a way that you can't with sliding doors. But are they right for your renovation or extension project? Let's look at the pros and cons…
Pros – as mentioned above a bi-folding door can be used for spaces ranging from around 2 metres, up to 6 metres and more, and will allow you to open up that space almost entirely. Great if you want to combine a large internal space with a patio or decking when the weather allows.
Most bi-folding doors are aluminium, and can be colour coated to the shade and finish of your choice. They're durable, low-maintenance and secure, and can also incorporate internal blinds if needed.
Cons – it's not possible to incorporate opening windows into or above bi-folding doors, and this can be an issue if there are no other windows in the space, therefore limiting your ventilation choice to opening a door.
Also, if you're weighing up, for example, a 3-4 metre space, either a 3 or 4 section bifold will have a larger amount of frame than the equivalent 2-section sliding door. If your priority is maximising glass area for optimum light and a view out onto the garden, then bi-folding doors might not be the best solution.
Want to find out more about Bi-Folding Doors?
Why not take a look at our Bi-Folding Doors page or if you would like to have a chat with one of our consultants please contact us on 020 8449 4747 and you can always arrange a visit to our showroom. Alternatively, please send us an email and we will get back to you. We would be delighted to talk through your requirements.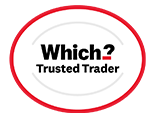 Endorsed by Which? Trusted Traders
Barnet Window Company Limited