Traditional Timber Alternative
'Timber Alternative' is a bit of a divisive phrase. Created, we assume, by marketing people as a way of describing their fantastically designed and engineered traditional looking UPVC windows without using the word UPVC, it can be quite confusing to some.
Now very much an established part of our offering, and probably the range that we're most proud of and enjoy working with the most, timber alternative is quite simply put an alternative to timber. If you have original period windows and doors, maybe Victorian sash windows, Edwardian Flush casements, or 'Georgian' French doors, and want replacement that maintain their look as closely as possible, but without the maintenance, then that's where timber alternative comes in.
Continued innovation from companies like Evolution and Masterframe have created a range of products that look and feel just like original timber glazing, but with the benefits of greatly reduced maintenance alongside top specification thermal standards and security.
These products look so good that they often can't be distinguished from the 'real thing', and although they're not perfect for every situation, it's rare that we can design a solution to suit you and your period home.
So if you're thinking about undertaking a traditional window project, but still can't bear the thought of using a material like UPVC, take a look at our fantastic timber alternative range, there's a very good chance you'll be very surprised by what you see! Our full range our timber alternative windows and doors are available to view in our showroom – please get in touch to arrange a visit, or you can download brochures here.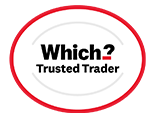 Endorsed by Which? Trusted Traders
Barnet Window Company Limited