Our Ultimate range windows and doors are available in a wide range of colours as standard, and with the option to colour coat to almost any colour, you can be sure that we can provide you with windows and doors to suit your property and your tastes.
The standard finish options available vary depending on the style (bevelled or sculptured) of frame that you choose.
Common colours in both styles include white woodgrain, the natural timber colours of rosewood and cherryoak, plus the popular anthracite grey, and of course the standard smooth white.
The coloured and white woodgrain colours use a technique called 'foiling'. This creates a subtle grained effect to give the profile the look and feel of painted timber. We would always use this foiled surface for any customised colour projects, too.
Note that some standard colour choices are available coloured inside and out, or with white internally. Whereas some are available only with a smooth white finish inside.
We have a range of samples in different colours to view in our showroom, as well as colour swatches and charts to allow you to make the best decision for you and your home.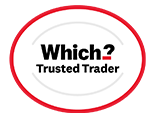 Endorsed by Which? Trusted Traders
Barnet Window Company Limited