Our Ultimate range window system is available in two design styles.
The clean bevelled design is our most popular product, with its more contemporary clean lines, whereas the sculptured 'ovolo' design gives a more traditional, detailed look.
Sculptured 'Ovolo' Design
Which option is best for you might depend on your personal choice, or the style and age of your property might lend itself more to one or the other. If you have a more modern, contemporary home, the bevelled profile is likely to be more in-keeping with that style.
If your home is an older, period property, with more decorative detailing then you might favour the more traditional sculptured option.
It's important to remember that the two styles are the same price, so you can make your decision purely on your chosen aesthetic.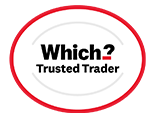 Endorsed by Which? Trusted Traders
Barnet Window Company Limited