Transform your outdoor living space with our Patio Awnings
With Summer in full flow, we'd like to speak about patio awnings. With increased temperatures creating an increased demand for shading solutions, our Weinor awnings are more popular than ever.
Patio awnings offer several benefits that enhance the outdoor living experience. Here are some of the key advantages:
Sun Protection: One of the primary benefits of patio awnings is their ability to provide shade and protection from the sun. By blocking direct sunlight, awnings create a comfortable and cooler space on your patio, allowing you to enjoy the outdoors without being exposed to harmful UV rays. This sun protection also helps prevent fading of outdoor furniture.
Temperature Control: Patio awnings can significantly reduce the temperature on your patio by blocking the sun's heat. This can be especially beneficial during hot summer months, as the awning acts as a barrier and prevents excessive heat from entering your home. By creating a shaded area, awnings can make your patio more comfortable and can even help lower indoor temperatures, potentially reducing the need for air conditioning.
Extended Outdoor Living Space: With a patio awning, you essentially create an additional outdoor living area. The shaded space provided by the awning allows you to utilize your patio during various weather conditions, including hot summer days or light rain showers. This expands your living space, providing an outdoor retreat for relaxation, entertaining guests, or enjoying meals.
Versatility and Flexibility: Patio awnings come in various styles, sizes, and materials, offering versatility and flexibility in design. Retractable awnings allow you to adjust the amount of shade and sunlight you desire.
Protection from Light Rain: While patio awnings are not designed to withstand heavy rain or storms, they can provide some protection from light rain showers. This allows you to remain outdoors and enjoy your patio even when there's a slight drizzle.
Enhances Aesthetic Appeal: Patio awnings come in various designs, colors, and patterns, allowing you to choose an option that complements your outdoor decor and enhances the overall aesthetic appeal of your home. They can add a touch of style, character, and sophistication to your patio area
Are you interested in finding out more?
Our experienced Awnings expert Paul is here to guide you through the entire process. Please get in touch if you are thinking of adding an awning to your home.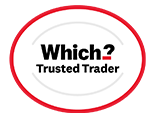 Endorsed by Which? Trusted Traders
Barnet Window Company Limited