Types of Sliding Patio Doors
Sliding patio doors have long been a favourite product of ours. We've been installing them for 40 years and although they've swayed in and out of fashion they've been ever-present.
Whether they're UPVC or Aluminium we can help you to design the best solution to suit your requirements, whether it's replacing existing French or patio doors, or the right doorset for your dream extension.
Typically UPVC would be used for the smaller doorsets (although we can use 4-section UPVC doors up to around 5 metres), or in situations where cost is playing an important part. Aluminium certainly comes to the fore for the much larger sets, where its inherent strength allows us to make doors with very wide and high sliding sections.
We also offer specialist sliding aluminium products like our Smarts Visoglide doors, which allow us to use a three-track system, where all three sections of a doorset can be moved independently, allowing you to open up almost 2/3rds of the overall space, which can be great for your renovation or extension project as an alternative to bi-folding doors.
Although aluminium doors don't quite achieve the same levels of thermal efficiency as UPVC, the differences are negligible and of course you'll benefit from the durability of the material, as well the advantage of significantly slimmer and more aesthetically pleasing frame sightlines. The only real downside is cost, where you'll find aluminium attracting a significant premium.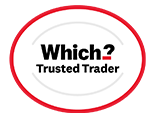 Endorsed by Which? Trusted Traders
Barnet Window Company Limited