What you need to know about conservatories
A difficult thing to comprehensively cover in a blog post, but let's give it a go at introducing some of the basics.
Firstly, you need to think about why you want a conservatory – how will you be using the space? This can affect the design and size of the conservatory, as well as the type of roof that you might want to have.
Then there's style, does the look of the conservatory need to blend effortlessly to the character and feel of your house, or are you looking to make a distinct statement? Again, the type of roof (glass or solid) will come up here.
Permissions – what do you need to do (if anything) to ensure that your conservatory is compliant with regulations, and considered appropriate under your Permitted Development rights, or even if Planning Permission is required?
Cost will of course come into it. With substantial groundworks and foundations typically required it is important to understand that even the smallest conservatories can be a sizeable investment. And when you're spending a lot of money it's of great importance to make sure that you're making the right decision for you and your home.
Thankfully that's where we come in. Our experienced conservatory team of John and Paul are here to guide you through the entire process (and in a lot more depth than this blog post!). Please get in touch if you're thinking of adding a conservatory to your home, or replacing/upgrading your existing one.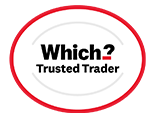 Endorsed by Which? Trusted Traders
Barnet Window Company Limited