When should I replace my windows?
With our changeable British weather this is a question that we often get asked. Some people actually assume that we close up for 6 months of the year, hibernating to wait for the longer days and warmer weather of Spring, but the reality, of course, is that we carry out installations all year round.
Now it's fair to assume that the perfect time of year to replace your windows and doors would be a sunny and dry, warm day with plenty of daylight. But with our more unpredictable and varied climate that can be almost any day of the year (well, maybe not the daylight…).
It's very unusual that the weather will prevent us from working and maintaining the high standards that we set for all of our window and door installations. With the exception of extreme cold (certain materials start behaving in a different way then), and during events like heavy snow and thunderstorms, where the safety of our teams is paramount, we will adapt our approach to suit the conditions.
This might mean a slower install, as we spend more time adjusting to conditions, doing things like increasing surface coverings to protect your home, or a different approach to the number and order of windows that we will replace – but rest assured you can be confident that your installation will be carried out to our very highest standards – whatever time of the year.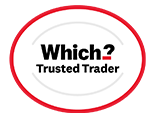 Endorsed by Which? Trusted Traders
Barnet Window Company Limited