Where can I use sliding patio doors?
Sliding patio doors can be used effectively in various locations throughout a home, depending on your specific needs and design preferences. Here are some of the best places to consider installing sliding patio doors in a home:
Living Room: In the living room you can provide a seamless connection between the indoor and outdoor living spaces, offering a beautiful view of your garden, or patio area. They flood the room with natural light and allow for easy access to outdoor entertainment spaces.
Bedroom: In the master bedroom leading to a private balcony, offering a tranquil retreat and enhancing the overall spaciousness of the room.
Kitchen: If your kitchen opens up to an outdoor patio or deck, they can make it easier to transition between indoor cooking and outdoor dining or entertaining. They also bring in more natural light, making the kitchen area feel brighter and more open.
Sunroom or Porch: Sliding patio doors are an ideal choice for sunrooms or enclosed porches and help to create a bright and open atmosphere while connecting the indoor space to the outdoors.
When choosing sliding patio doors for your home, consider factors like the direction they will slide, the size of the opening, and the overall design aesthetic to ensure they meet your specific needs and complement your home's style.
Want to find out more about sliding doors?
Take a look at our Ultimate Range Panorama Lift and Slide Doors Brochure that you will find on our brochures page for further information. You may even find it useful to check out our wonderful suppliers John Fredericks.
Want to find out more about Barnet Window Company?
If you would like to have a chat with one of our consultants please contact us on 020 8449 4747. Alternatively, please send us an email and we will get back to you. We would be delighted to talk through your requirements.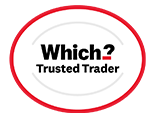 Endorsed by Which? Trusted Traders
Barnet Window Company Limited