What are the advantages of Aluminium windows?
Aluminium windows offer several advantages over other types of windows, including:
Strength and Durability: Aluminium is a very strong and durable material, which makes it an ideal choice for windows. Aluminium windows are resistant to corrosion, fading, and warping, and can withstand extreme weather conditions.
Low Maintenance: Aluminium windows require very little maintenance, and can be easily cleaned with soap and water. Unlike wood windows, they don't need to be painted or stained.
Design Flexibility: Aluminium windows can be easily customized to fit any size or shape of window opening. They are also available in a variety of colours and finishes, so you can choose the perfect look to match the look and feel of your home.
Energy Efficiency: Modern Aluminium windows are designed with thermal breaks, which help to reduce heat transfer through the frame and improve energy efficiency. Paired with highly insulative sealed double or triple glazed units means that Aluminium will comfortably achieve compliance with modern requirements and at least a B Energy Rating.
Environmentally Friendly: Aluminium is a highly recyclable material, which makes it a sustainable choice for windows. Many aluminium windows are made from recycled materials, and can be recycled again at the end of their lifespan.
In summary, aluminium windows offer several advantages over other types of windows, including strength and durability, low maintenance, design flexibility and sustainability. Find out more on aluminium windows below.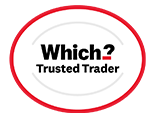 Endorsed by Which? Trusted Traders
Barnet Window Company Limited