The Advantages of FINEO: The Next Generation of Vacuum-Insulating Glass
In 2025 the Future Homes Standard will be introduced to compliment building regulations. This is to ensure that new homes produce 75-80% less carbon emissions that homes delivered under the old regulations.
As is typical in the window and door industry, standards that are initially introduced for new homes, soon play a part in determining the required standards for replacement projects in existing homes. As a result, industry must be committed to constant improvements of efficiency. Part of these improvements are focused on triple glazing, but ultimately, we will have to do better. Triple glazing is heavy (affecting the longevity of window components like hinges), unsightly (restricting far more light than standard double glazing) and inefficient to manufacture (50% more glass produced per unit compared to double glazing).
FINEO vacuum-insulating glass units are likely to be a solution to the issues mentioned above, whilst achieving the performance standards required to meet upcoming requirements and keep you and your family warm and snug in your home.
The pioneering technology of a vacuum sealed unit gives exceptional heat AND sound performance, is incredible durable and sustainable. FINEO glazing combines two panes of glass, separated by a tiny vacuum gap, and is 12.5% more efficient than a 36mm triple glazed unit. It's available in units as thin as 10mm, which is why Masterframe, our sash window partner, has introduced it into their new Symphony 1.2 product. Unprecedented performance, but also incredibly sympathetic to the look and feel of original single glazed timber sash windows. The best of both worlds!
We've recently installed a Symphony 1.2 window with FINEO glass in our New Barnet showroom. Please get in touch if you'd like to arrange a visit to take a closer look.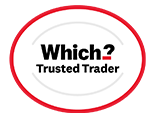 Endorsed by Which? Trusted Traders
Barnet Window Company Limited