Bi-fold, Sliding or French Doors – Which Is Right For Your Home
There are various factors to consider when designing the most suitable doors for your home. There are plenty of products to choose from, and this can be daunting, so let's try to simplify things and help you to make the right decision for your home.
Firstly, size. The larger the opening, the more likely you are to want to consider a bi-folding or sliding door. This is because you can achieve much wider clear openings (especially with bi-folds) than you can with a more traditional French door setup, which are restricted in maximum opening size. Bi-folding doors can open up a space fully, really bringing the outside in – great for the long summers.
For smaller spaces bi-folds and sliding patio doors become less practical, and French doors can come into their own as a practical solution to open up a narrower space fully.
Then there's the look that you're looking to achieve. Sliding doors and bi-folding doors, which are typically made of aluminium can give a more contemporary feel, which can either compliment the style of your home, or create an interesting contrast, particularly in an extension.
French doors are typically a more traditional look, with increased frame thicknesses, and therefore reduced glass area, but you could also consider the very popular choice of our Steel-Look aluminium products, with their very sleek, thin-framed appearance.
It's often worth considering whether you require any opening windows in addition to the doors. These can be useful in living areas where opening the doors to ventilate may not be practical. By incorporating sidelights with openers either side of French doors you can achieve varying levels of ventilation, which may be more practical throughout the year. This is far less likely to be an option with a sliding patio or bi-folding solution.
Then, of course, there's budget. The different options you have to consider here could potentially vary hugely in price, and if your doors are part of a larger renovation or extension project then this is certainly well worth considering. By asking your provider to look at various options, you can fully evaluate the best options for you, your home, and your budget.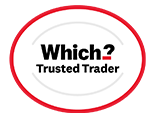 Endorsed by Which? Trusted Traders
Barnet Window Company Limited